POD Tent  is the revolutionary new concept in social camping offering a refreshing new approach to outside living. The system is designed to be completely modular so simply buy what you want when you want.
This outer POD is a huge 5 Mtrs ( 16.4 ft ) in diameter and 2.7 mtrs ( 8.85 ft )to the top and will sleep 8 people in a open communal living arrangement or for those who prefer some privacy then sub divide the the internal division.
Forget complicated colour coded or numbered poles the POD has 8 poles that are all the same size and shape and a clever 8 fingered central attachment making it easy to erect for any camping novice in fact 2 people can easily erect this tent within 20 – 25 minutes.
Why not have 2 or more POD's and add the connecting tunnel to join the tents ? this will allow you to sleep in one and socialise in the other.
This is the perfect product if you are camping as a large group , each with your own POD's all interconnected. Just imagine the fun you and the kids will have and the safety of knowing that your children are only a tunnel away while you socialise in the central POD.
*Pod's are considered a Leisure tent, Nylon material is not suitable for permanent pitching & extended UV Exposure.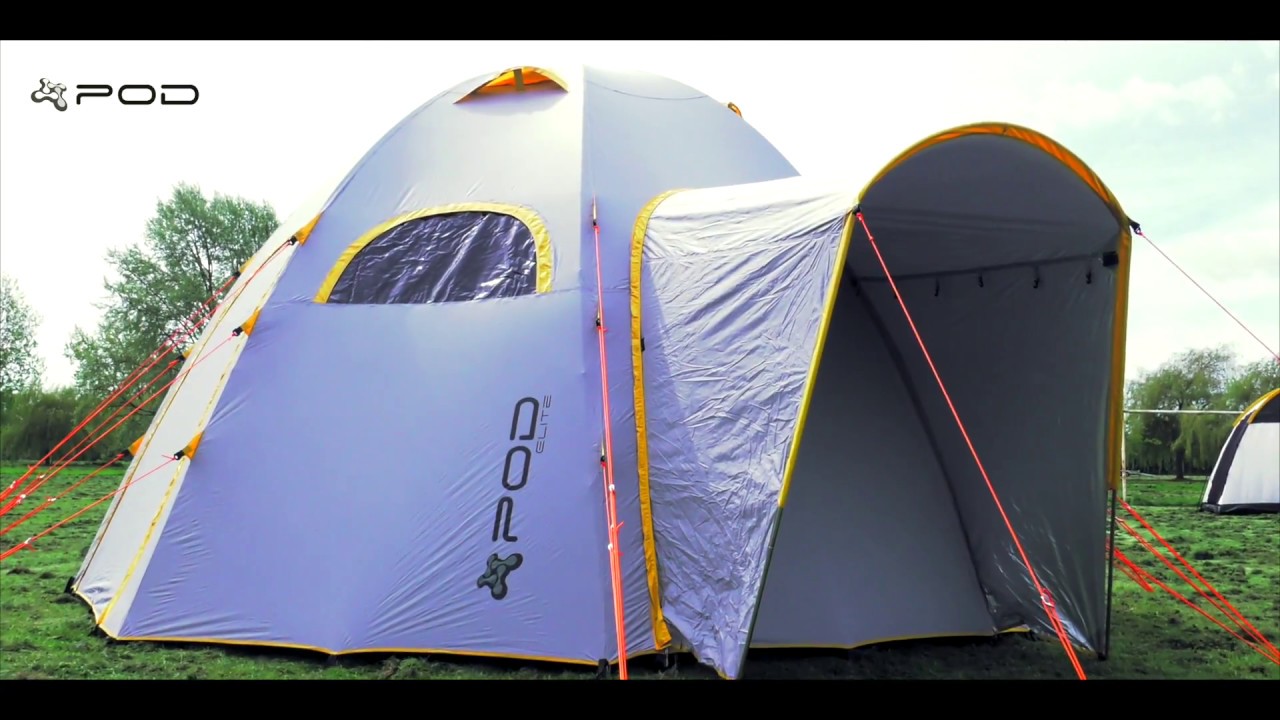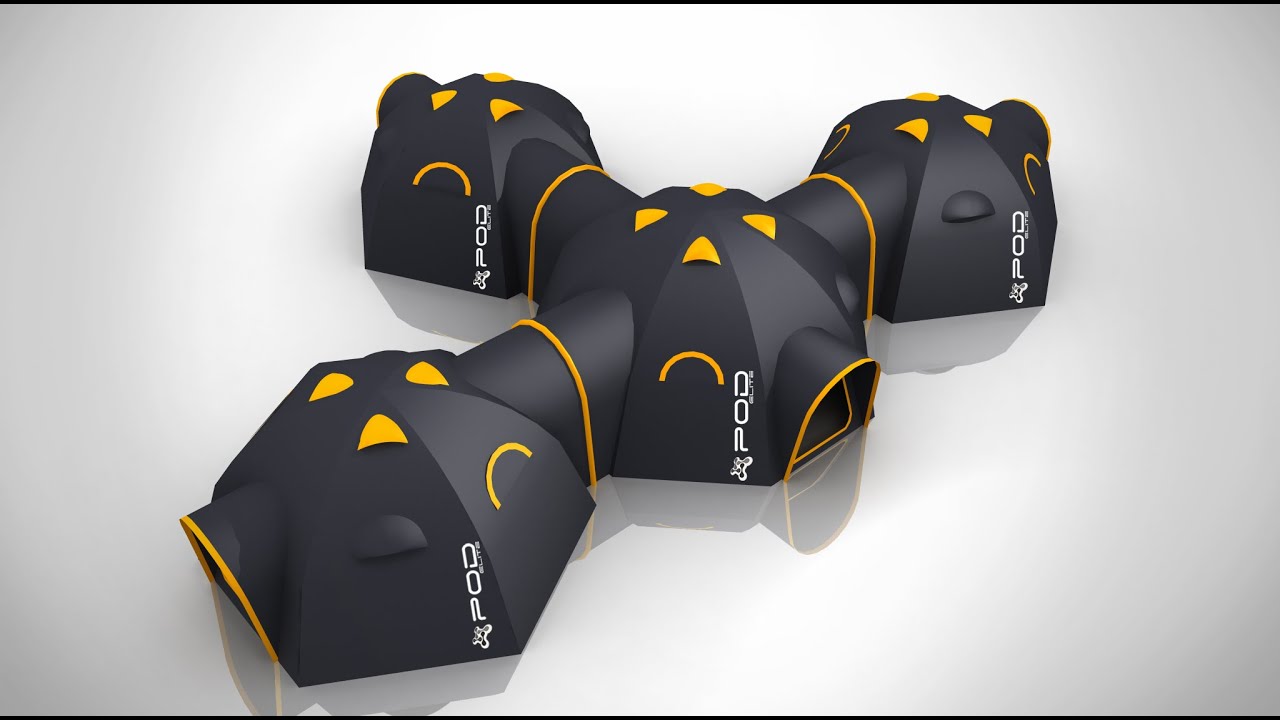 Standing the tent in what seemed like a Force 10 storm in the Lake Districts was not an issue, equally standing them in the dark in the Yorkshire Moors was a doddle. With the entire build quality of the tents being superior and the ease in which they went up, it drew quite a crowd of people to see these unique tents. With every visit from some and seeing the space, they were sold on the concept.

Not only does the product look great, the communal style of space was something we'd not experienced before. For us, it made our adventure all the more special in the way we could layout the tent for sleeping and living. The height of the tent is a huge bonus. At 6'1" finding tents that I can move freely around and not look the Hunchback of Notre Dam was icing on the cake.
John Dennis
We have been searching for something unique to stand out against other trek outfitters on Kilimanjaro. It is the POD team and its revolutionary product that made it 100% possible. Firstly, our clients are the happiest on the Mount. Their Kilimanjaro adventures with us are comfortable in a way that has never been experienced by anyone on Kilimanjaro before. Not only the walk-in design made the climbs really enjoyable (no need to crawl inside any more), but also the Roof of Africa wonders become accessible for the elderly and people with disabilities, for whom using conventional tents is impossible. In addition, because of the tunnels, it became possible to run comfortable expeditions during the rainy season.

Secondly, the POD support team is awesome. They respond to all our queries quickly and informatively, and our suggestions and ideas are always taken into consideration.

We plan to perpetuate our cooperation with the POD for many years to come
Aleksandr Andreichuk – Altezza Travel
Going on holiday again with my friends along with my Pod Tent Mini. Brilliant tent ,easy to erect,loads of room for my gear . I was a caravanner for 37 years had a camper an for a short time but now at 67 I have become a "tenter". I would certainly recommend this tent to anyone without a doubt you would be struggling to find anything better. Happy holiday!
Tony Chisnall
We have been using our three PODs for years now.  They are so roomy.  Once we had about 20 people in the large one eating lunch in the rain and it didn't feel cramped.  They always cause a stir and we are regularly taking people on tours.  They are simple to get up and get down again.  They are so good, that our friends who hire a caravan next to us while we camp, have decided they are going to buy one and attach onto ours.  I LOVE our POD kingdom!
Lotti Slater
Pod Tents have been really great throughout the process. I run an
international student organisation in Australia and there were a couple of
tax/postage hurdles that I had questions about. Jason from Pod Tents was
really great to work with and eased our concerns. The tents arrived a
fortnight ago in time for our camping trip and they were a hit. The tents
are massive, and given the cold we even managed to fit 14 people in one
tent (we probably should have brought more blankets, but we compensated
with spooning). Everyone's pretty excited for our next event
Pod Australia Customer
Being 6 ft 3 i have always struggled in tents before i purchased my Pod and now finally i don't need to constantly bend over to get around inside a tent. The space inside is amazing and there is none of the claustrophobic feeling i used to experience in other tents. Thanks Pod for making camping more accessible for us tall people.
Martin Lens
When looking for a simple solution to communal camping, I thought the decision would be hard. But the decision I took is the best one possible! We were looking for a system which would enable us all to have our own space, but not take forever to assemble. I first saw the POD tent system though a Facebook video, and thought I would inquire. I went on to buy 3 mini's and 1 maxi we use the tents many times each year – and we love it!
Allan Mason-Whelan
Having owned my Pod Maxi tent now for 2 years i cannot fault it , i have used it in lots of different weather conditions and come rain or shine it continues to perform excellently. If you own a Pod you will have to get used to people asking you all about it as it acts as a magnet for people wanting to find out about it and look inside as its like nothing else on the campsite.

We are already looking to add an additional Pod Mini to our set up with a tunnel so we can send the kids off to their own room ..
Mark Thomas
At the Exosphere Academy, we require a lot of shipping of equipment, parts, electronics, etc. So when the senior fellow of the Mars Simulation told us she needed "the best tents in the world," to simulate a structure on Mars, she told us they had to come from Podtents.

We are not strangers to all the crazy laws, rules, etc that comes with international shipping. We ran into a few problems getting the tents to Brazil, but Jason was always just one message away. He helped us immensely during this process. From finding the best shipping and logistics price, to having patience with us as we figured everything out. He went above and beyond what we are used to dealing with when we ship internationally.

As we grow our Mars Simulation course at the Academy, we will definitely be doing more business with Podtents. Not only because they have the best tents in the world (suitable for Mars Simulation missions) but because of their outstanding customer service and problem-solving mindset. Thanks so much to Jason and the Podtents team.
Luke Blackburn
"I am looking at tents for staff for Duke of Edinburgh expeditions I run at my school. We have a large number of participants for Bronze and Silver and it is important to us that the staff are also comfortable to enable them to support the students effectively whilst on expedition.
With the changing weather in the UK we also need space for securing kit and shelter for staff to stay out of the elements. I have looked at traditional style tents but they are cumbersome and more for family camping than what we need.
I found the pod tents online and contacted Jason – he kindly lent us one maxi and two minis with tunnels to try out for our Bronze weekend expeditions this season.
We used the Maxi on the first weekend where 4 members of staff slept on camp beds, there was loads of space for them and lots of spare kit. It was the weekend of the high winds so we were a little worried that, due to its height, it would stand up to the elements; we needn't have worried, we put in all guy ropes with sturdy pegs and the Maxi won through.
The second weekend we used the two Minis with a tunnel in-between and again they were used for four staff members (2 in each pod for privacy). The innovative design with the tunnel offered a great solution for splitting couples or male/female staff.
Both tents and tunnels were easy to put up and down , just from watching the you tube video we were able to set up within 5 to 10 mins the first time we had used them. I am sure with more use we will become a lot quicker.
The fabric used, the design and stitching is all of high quality and we were very impressed. These would definitely be suitable for any staffing tents for DofE, Scouting or similar"
Tony Edwards, DofE Centre Manager, Samuel Whitbread Academy, Clifton, Beds"
Tony Edwards – DofE Centre Manager
Special Ofers For Subscribers